Overview of the Special Zone Programs
Special Zone for Asian Headquarters
This zone received designation by the national government in 2011 as a Comprehensive Special Zone for International Competitiveness. A project to attract foreign companies is underway in six areas in central Tokyo with the aim to gather even more Asian regional headquarters and R&D centers.
Launch date

2011
Areas

Central Tokyo and waterfront area, Shinjuku Station vicinity, Shibuya Station vicinity, Shinagawa and Tamachi stations vicinity, former site of Haneda Airport, Ikebukuro Station vicinity (As of the end of November, 2016)
Goal

To gather more Asian regional headquarters and R&D centers by attracting foreign companies to the special zone in order to raise Tokyo's international competitiveness and lead Tokyo to further growth.

Target

(by 2020)

Target numbers

At least 400 foreign companies, including 40 companies establishing their Asian regional headquarters or R&D centers.

Target industries

All industries including IT, medical/chemical, electronics/precision instruments, aviation, finance/securities, and content/creative
Program contents

A menu of tax incentives, deregulation, and administrative and financial support is prepared for foreign companies advancing operations to the special zone for the first time. A one-stop consultation desk providing assistance in the English language has also been established to allow foreign companies to conduct business smoothly in the special zone and so that employees and their families can feel reassured about living in Japan. Other measures include multi-language dissemination of information, provision of offices with high performance and functions, which are resilient against disasters, and the preparation of a comfortable business and living environment for foreigners.
Area Map
Tokyo's Special Zone for Asian Headquarters is indicated in red in the Google Map below.
View enlarged map
Attractions of Special Zone Areas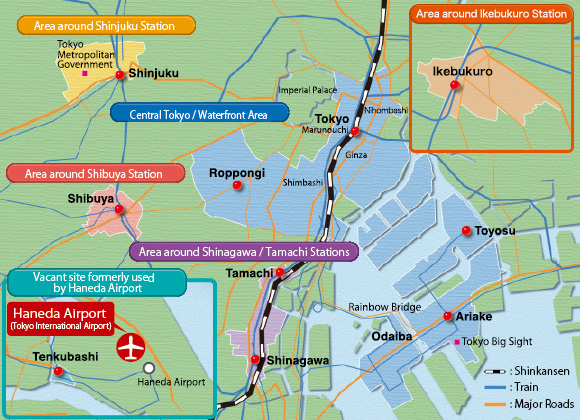 In establishing your regional headquarters or R&D centers, select the best place for your business from among six areas, each with its own special color.
Central Tokyo / Waterfront Area
Marunouchi/Otemachi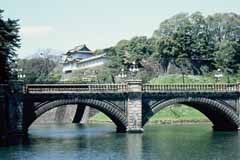 Marunouchi is located between the Imperial Palace and Tokyo Station, the gateway to the city. The name originates from its location within the outer moat of the Edo Castle in the Edo Period (1603-1868). Today, this area, including neighboring Otemachi, is Japan's financial and economic center that is home to the headquarters of banks, trading companies, mass media firms, and other corporations, as well as related business groups.
For over a decade, this area underwent redevelopment projects that led to the creation of many new commercial and cultural facilities, remaking these business-specific neighborhoods into more lively towns where people can enjoy plenty of shopping and dining options on the weekends.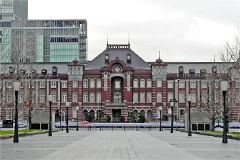 In this area, 2012 saw the completion of Otemachi Financial City, including the Finance, Innovation, Networking and Education of Tokyo (FINE Tokyo), a platform to foster international financial personnel, in the Otemachi district, as well as the JP Tower, including an international conference center and international business/tourism information center, in the Marunouchi district. Business Development Center Tokyo, a one-stop business consultation desk for businesses expanding into Tokyo, is located in the JP Tower as well. In 2015, a project to convert the Tekko Building created during the period of reconstruction after World War II into a modern office building with serviced apartments was completed. Additional large-scale urban development projects are scheduled.
Nihombashi/Kyobashi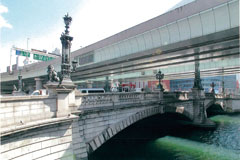 The finance and business district of Nihombashi has flourished as a commercial center since the Edo Period, and is an area where one can find traditional old shops in harmony with state-of-the-art buildings. Today, with Japan's central bank – the Bank of Japan – and the Tokyo Stock Exchange, headquartered here, Nihombashi serves as a global financial center on par with the City in London and Wall Street in New York and other global financial centers.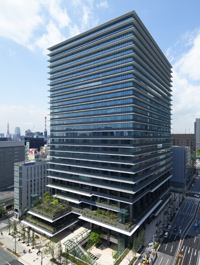 This district is also home to pharmaceutical companies, and initiatives are underway to create a center for drug development innovations.
Likewise, in the business neighborhood of Kyobashi, adjacent to Ginza, Tokyo Square Garden was completed in 2013. This complex has facilities such as a bilingual day care facility as well as a health care facility able to accept foreign patients.
Ginza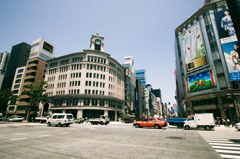 The name for Ginza originates from the fact that the agency in charge of minting silver coins was located here during the Edo Period. Featuring streets lined with department stores and high-end boutiques, Ginza is well known as one of the world's leading shopping districts, drawing tourists from all over the globe.
Shimbashi/Toranomon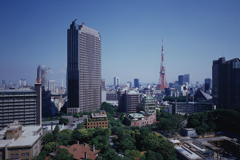 Shimbashi, the birthplace of Japan's railway system, is adjacent to Marunouchi and Ginza, and has developed as a center of commerce and business. This district, together with Toranomon – close to the Kasumigaseki district where the ministries and agencies of the national government are located – is one of Tokyo's leading office districts.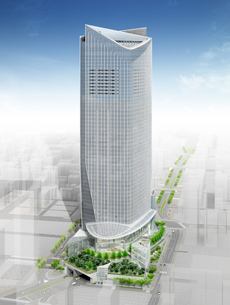 In the Toranomon district, following the mixed-use skyscraper project, which was implemented in conjunction with the construction of a section of the Ring Road No.2, a project to build an international business center in line with the construction of a new Hibiya Line subway station is underway. Developing spaces where homes are close to workplaces in order to attract international businesspeople is also planned.
Roppongi
This is Tokyo's rapidly changing, trendsetting district. A highly cosmopolitan flavor is also present due to the numerous foreign embassies around the area. Roppongi is a popular shopping and art spot, which in recent years has seen the construction of megacomplexes like Roppongi Hills and Tokyo Midtown, complete with shopping centers, hotels, museums, and other facilities. In 2012, ARK Hills Sengokuyama Mori Tower was completed, a building that brings together residential, commerce, and business facilities.
Toyosu/Ariake/Odaiba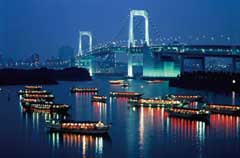 This area of modern office buildings, elaborately designed commercial facilities, high-rise residential spaces, and schools, is also referred to as the Waterfront area. Here, the elements of work, residence, study, and entertainment are brought together in one place.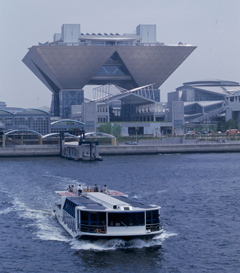 It is the location of Japan's largest international exhibition center, Tokyo Big Sight, and continues to be developed as a focal point for MICE*1 and international tourism. It is conveniently connected to the center of Tokyo by rail and arterial roads, and is also located near Haneda Airport (Tokyo International Airport), making it wonderfully positioned for air, sea, and land transport networks.
*1MICE: Meetings, Incentives, Conferences, and Exhibitions
Area around Shinjuku Station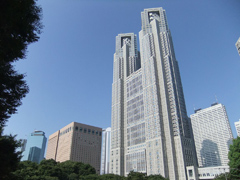 Shinjuku Station is a gigantic terminal boasting the largest number of users of any station in Japan. In Shinjuku, the east and west sides pose an interesting contrast: the west side has the Tokyo Metropolitan Government buildings and rows of other majestic skyscrapers such as office buildings and hotels, while the east side has a lively atmosphere, centering on Kabukicho, Japan's most famous entertainment district.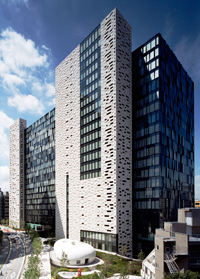 In 2012, a new landmark of the east side was created with the completion of Shinjuku Eastside Square, an office and commercial facility complex. This building has one of the largest single-floor space in Tokyo, providing a well-shaped, expansive office space.
Area around Shibuya Station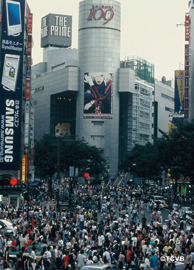 Shibuya is at the forefront of youth fashion and culture and is bustling with many young people. It is also a growing hub of the creative contents industry.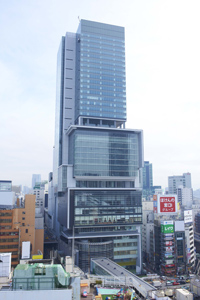 In 2012, Shibuya Hikarie, including office and commercial spaces, one of the world's largest musical theaters, and an event hall that can meet the needs of various users, was opened in front of Shibuya Station. This complex is a new and popular landmark in the area. The building as a whole creates new value and efforts are underway to make this place a center for new trends.
Area around Shinagawa / Tamachi Stations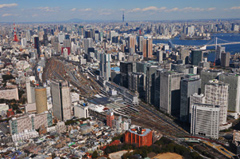 Shinagawa Station is a major terminal accomodating the Tokaido Shinkansen to Osaka and Kobe, the Keihin Kyuko Line to Haneda Airport, and the JR Narita Express to Narita International Airport. Since it has also been selected as the starting point for the linear maglev Chuo Shinkansen line, its importance as a transportation hub is expected to increase even more in the future.
In the area around Shinagawa Station and Tamachi Station efforts have been underway in recent years to create an attractive, modern, eco-friendly community through large-scale redevelopment projects building skyscrapers and high-rise residential complexes. This area is garnering a lot of attention in Tokyo as a new location for corporate offices and diverse commercial facilities. It is a place graced with water and greenery. Open-air cafes and parks along the canals provide relaxation to business people and residents.
Vacant site formerly used by Haneda Airport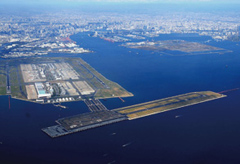 Haneda Airport is Japan's largest airport, with a superb location just 30 minutes from Tokyo Station by train.
This airport is ranked fourth in the world in terms of the annual passenger movement.*2Initiatives are underway to turn airport facility sites that have been vacated due to offshore developments and establishment of the international terminal area into sites containing industrial exchange facilities and multipurpose spaces as well as airport hotels and office complexes that leverage their proximity to the airport's international zone.
Capitalizing on its connections to not only locations throughout Japan, but the world as well, it is expected that this area will become a center of exchange where people can relax, have fun, and feel a sense of achievement by promoting active exchanges of people, things and information.
*2Source:ACI ANNUAL World Airport Traffic Report (2013) at Haneda Airport
Area around Ikebukuro Station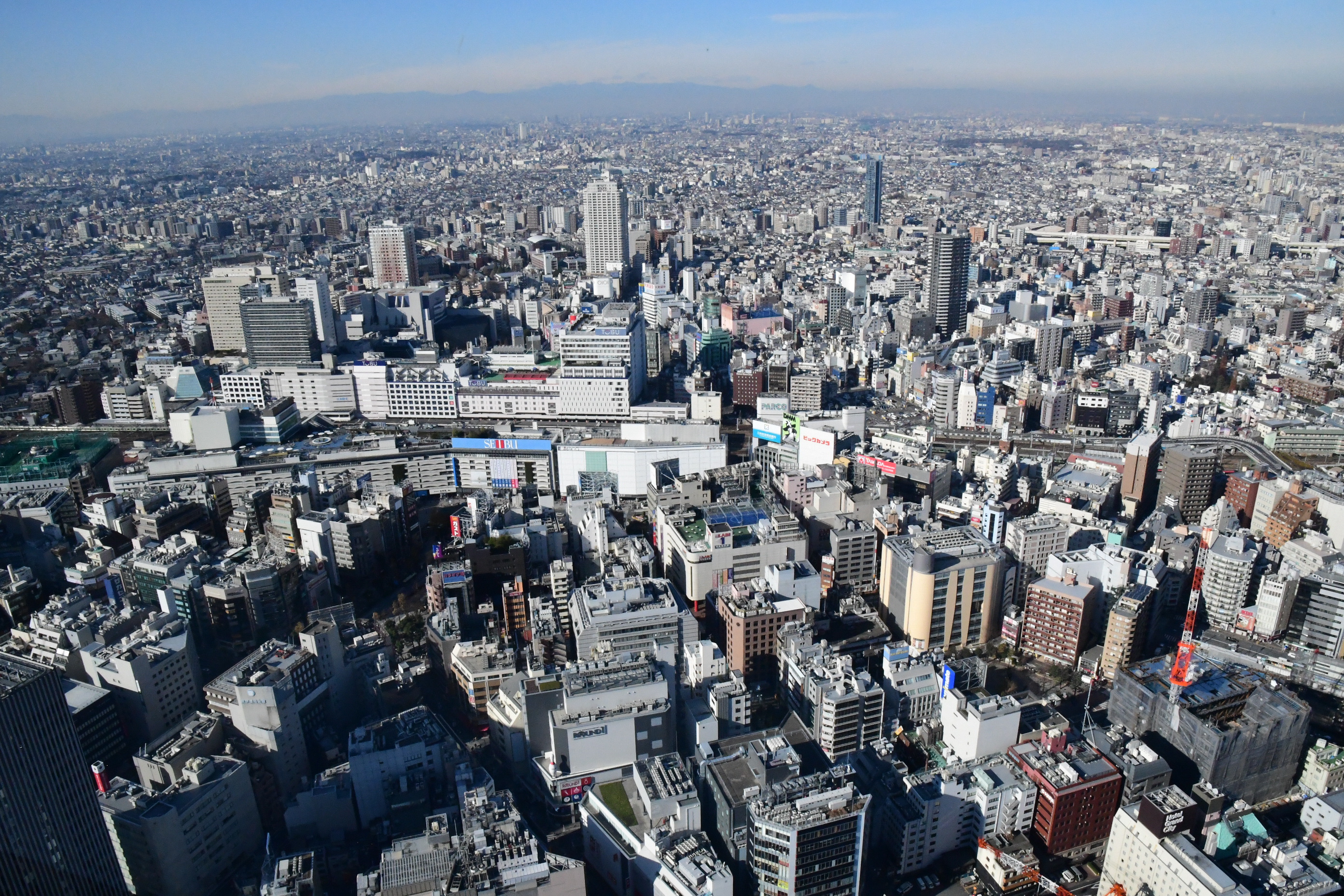 Ikebukuro Station is a huge terminal second only to Shinjuku Station. In addition to department stores and other large-scale commercial facilities, the area around the station hasa high concentration of retail stores, eateries, and other various small commercial facilities.
As a cradle of culture it is also an area that has various cultural facilities such as theaters, live houses, and movie theaters, and including areas along the train lines from Ikebukuro, it is a district that also attracts the manga and anime industries.
Another feature of this area is its high foreign population centering on residents from other parts of Asia.
Major Initiatives
Approaches / Business Exchange
Business Support
Living Environment Development
Business Environment to Secure BCP*3
*3BCP : Business Continuity Plan