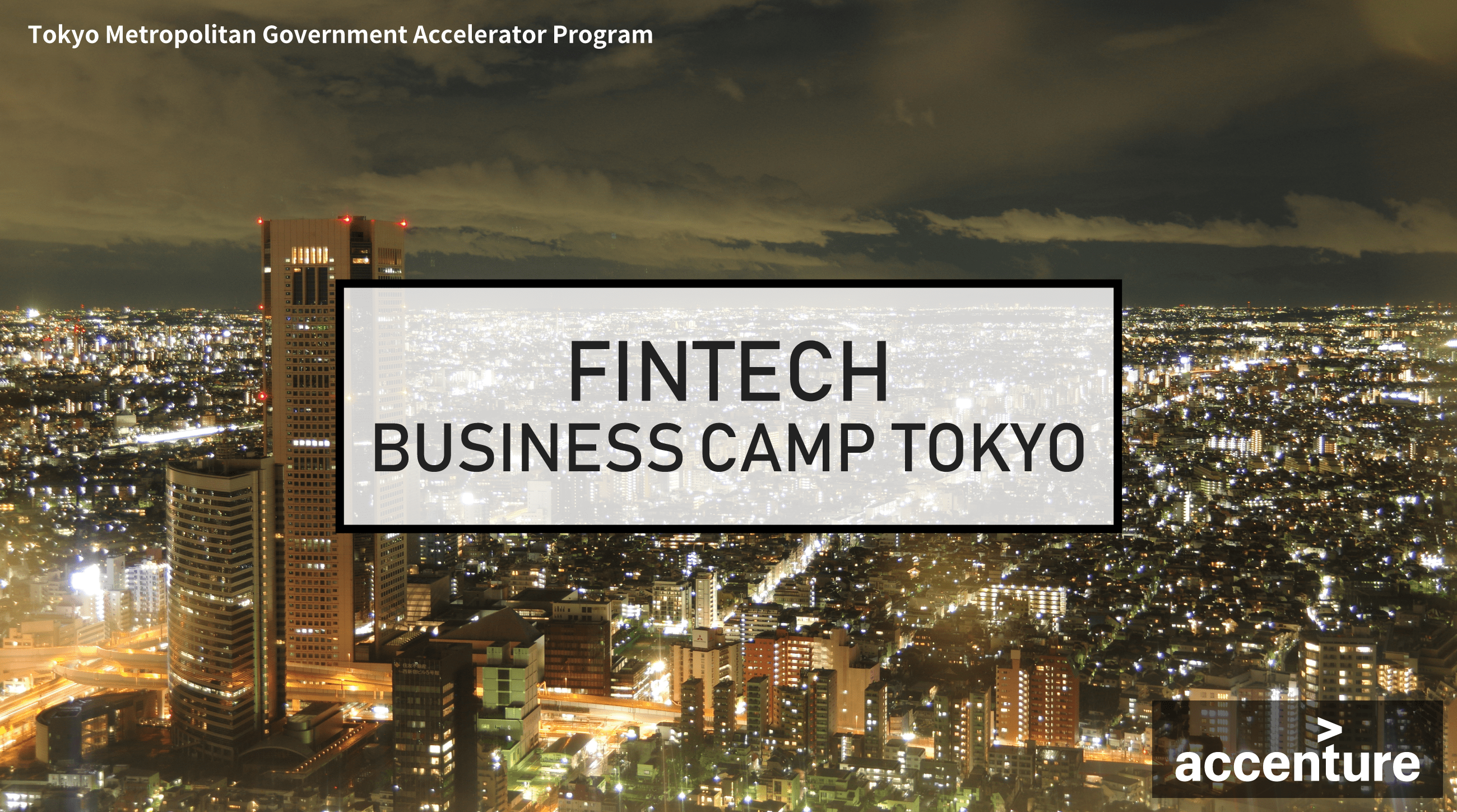 Objectives and Overview of the Program
In November 2017, the Tokyo Metropolitan Government (TMG) formulated the "Global Financial City: Tokyo" Vision with the aim of making Tokyo an unrivalled global financial center. The policy outlines the form that this city should take, concrete measures to be taken, and the structures needed to make the vision into a reality. TMG will work together with the national government, private sector, and other bodies in carrying out initiatives to revitalize the city's financial sector.
Since FY2017, the "Accelerator Program – FinTech Business Camp Tokyo" (hereinafter referred to as "the program") has been held by TMG with the goal of inviting foreign startups with cutting-edge technologies and business models to come to Tokyo and deepen their knowledge of both Japan's unique market and the various needs of companies in the capital city. Further, by providing Tokyo companies the opportunity to familiarize themselves with technologies possessed by foreign companies, the program aims to cultivate business matching and attract foreign companies to Tokyo.
Last year, applications were received from 52 companies across 16 countries. Through a rigorous review process, a total of 8 companies were selected for the program. This year, TMG will take its next step as an unrivalled global financial city by continuing to spur participation by first-rate foreign companies.
Program Flow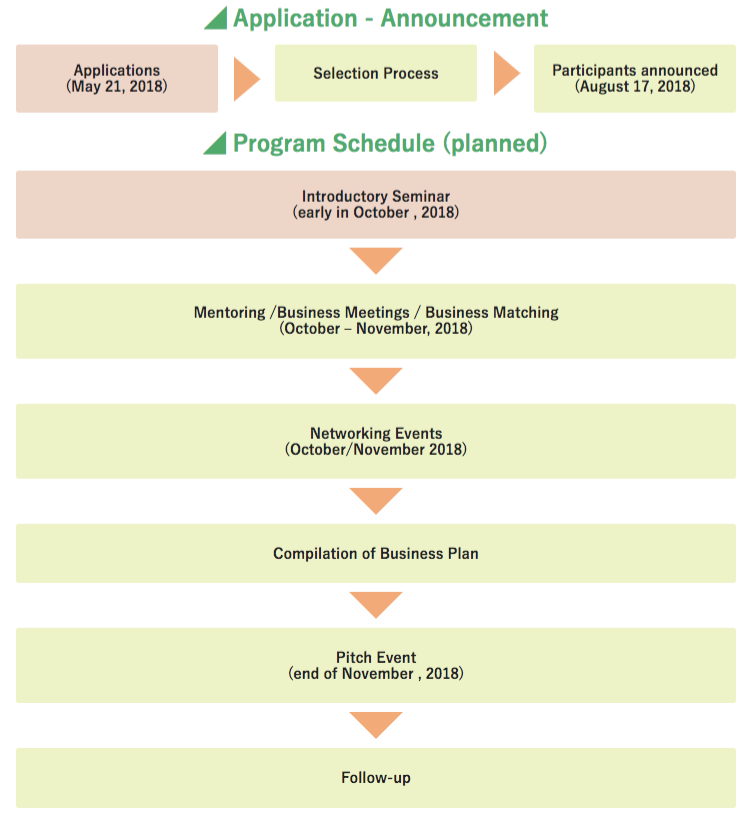 Program Details
Introductory Seminar

Specialists from various industries give explanations on the structure of Japanese industries, market trends, and more.

Mentoring, Business Meetings, Business Matching

Foreign companies brush up their business plans with Japanese companies operating their business in Tokyo ('mentor companies').
The Camp Office assists in matching and arranging meetings.
Business matching opportunities with leading Tokyo companies are provided to each participating foreign company.

Networking Events

Networking events to facilitate business matching and help foreign companies and mentor companies, Tokyo companies, Tokyo investors, foreign embassies and chambers of commerce based in Japan, etc., to better understand one another.

Compilation of Business

Foreign companies create/update their business plan for establishing a site or expanding their business into Tokyo.
Experts also provide business plan support, taking into account Japan's market environment and other factors.

Pitch Event

Foreign companies present their business plan at pitch event.
Attendees will be from the general public (both companies and individuals).
Golden opportunity for foreign companies to promote their business plans!

Follow-up

The Camp Office provides support until the end of March 2019, with the Business Development Center Tokyo* taking over from April 2019 for those companies moving forward with their Tokyo business expansion plans.
*Business Development Center Tokyo
Tokyo's one-stop support center for foreign companies. It provides a range of business and lifestyle support.
Provides information and advice on Japan's regulations, etc.
Support in establishing a new site (information on corporate registration, etc.)
Introduction to relevant organizations, etc., according to needs
Assistance in finding local partners
Provides information on living in Tokyo (English-speaking hospitals and schools, etc.)
Information on Subsidy Programs
【Overseas Financial Corporation Business Establishment Subsidy Program】
Grants a subsidy to foreign FinTech companies for site establishment expenses (consultation fees paid to lawyers and other experts, personnel recruitment costs). Subsidy rate: 1/2 of expenses (max. JPY 7.5 million)
Program Location
*The details of mentoring and business meetings will be finalized by the discussion with Japanese companies.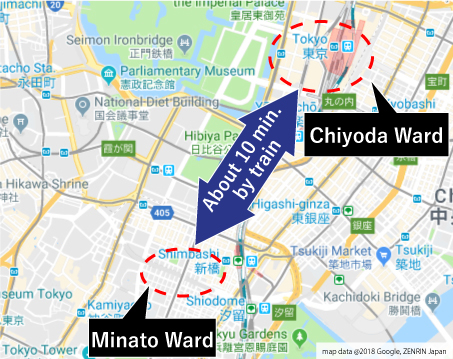 Chiyoda Ward(area around Tokyo Station)

HQs of many major banks, insurance firms, securities companies, asset management companies

Organizations to support foreign startups

Business Development Center TOKYO (BDCT)
Financial One Stop Support Service

Other Organizations

JGlobal Business Hub Tokyo, FINE Tokyo, Finolab, etc.

Minato Ward

The venue of networking events and the pitch event

Organizations to support foreign startups
Target Foreign Companies and Number of Companies to be Selected
-The program looks for foreign companies with advanced technologies (e.g. AI, IoT, blockchain, VR/AR, robotics) that promotes digitalization in the financial industry, and which have not yet established a Japanese corporate entity. Around 10 companies will be selected.
Advantages of Participating in the Program
Opportunities to meet with leading Tokyo companies
Increase in potential business opportunities with around 100 Tokyo companies from all industries attending the pitch event and two networking events.
Support provided by TMG for PR activities in Japan (TMG will designate the types of media to be used and when promotions will take place).
Free office space provided at sites such as Accenture Innovation Hub for the duration of the program.
Support with translation and interpretation, meeting arrangements, appointment scheduling, meeting facilitation, and more provided by the Camp Office for the duration of the program.
List of Participating Japanese Companies (Alphabetical Order)
ALL NIPPON AIRWAYSCo., Ltd.
Daiwa Securities GroupInc.
FUJITSU LIMITED
Japan Post Co., Ltd.
Japan PostInsurance Co.,Ltd.
JTB Corp.
Mitsubishi UFJ Financial Group, Inc.
Mitsui Sumitomo AioiLife InsuranceCompany, Limited
Mitsui SumitomoInsurance Company,Limited
Mitsui SumitomoPrimary Life InsuranceCo., Ltd.
Mizuho FinancialGroup, Inc.
NIPPON TELEGRAPHAND TELEPHONE EASTCORPORATION
Nomura Holdings, Inc.
NTT DATA Corporation
Rakuten Bank, Ltd.
Rakuten Securities, Inc.
Shinkin Central Bank
Sony Corporation
Sony Financial Holdings Inc.
Sumitomo Mitsui Financial Group, Inc.
The Dai-ichi Life Insurance Company, Limited
TOKYU CORPORATION
List of Supporters (Alphabetical Order)
Within the program, "supporters" are business coaches who will provide business expansion support to program participants. For the duration of the program, supporters will provide advice on business customs and business strategies for the Japanese market, as well as legal restrictions, corporate registration, and other legal matters across the board.
Peter Haslebacher

Shift Technology,COO APAC

Speciality

Insurance Industry in APAC
Business Development and
 Going to Market strategies
 in the InsurTech space
Business process optimization
 for insurance carriers.
Strong network in the insurance
 space in APAC and Japan.
Successful participation in
 the Business Camp Tokyo
 2017 for Shift Technology.

Mikito Hirata

NEC Corporation
Executive Specialist, Corporate
Technology Division

Speciality

Venture Investment
Open Innovation
Business Development

Yoshimasa Kato

TOKYU CORPORATION
Business Development
Headquarters

Speciality

Open Innovation
Strategic Alliance
B2C or B2B2C
Implementation
PoC

Masakazu Masujima

Mori Hamada & Matsumoto.,
Partner / Attorney-at-law,
FINOLAB, Founder & President

Speciality

M&A and corporate governance
 consulting for financial institutions
Funding Support of start-ups
Acquisition of licensing,
Deregulation
Development of new business models

Takafumi Murakami

Accenture
Managing Director, Technology
Strategy Lead, Japan

Speciality

IT Strategy development, Digital Transformation, and IT M&A / PMI
Mainly focusing on financial service industries

Kenichiro Omori

Rakuten Bank, Ltd.
Executive Officer,
General Manager of
Innovative Service Planning Division

Speciality

Financial services in
 Japanese market
System field in the finance,
 especially settlement category

Adrien Pichon

WeAre Pacific
Development Manager

Speciality

Business Development
Intercultural Management

Yuri Suzuki

Senior Partner / Attorney at Law
Innovation Practice Group
Atsumi & Sakai

Speciality

Financial Services Regulation,
 Fintech
Foreign Direct Investment

Hidenori Takada

TOYOTA TSUSHO CORPORATION
Project Manager, Africa Group3,
Africa Automotive Department, Africa Division

Speciality

Business Planning
New Market Research
Supply Chain Optimization
CrossCulture/Business
 Practice Management

Phillip Seiji Vincent

Plug and Play Japan,
Managing Partner

Speciality

Pitch Coaching
Business Modeling
Japanese Corporate Network
 and Understanding, Strong network
 in IoT, Mobility, FinTech
 and InsurTech in Japan
Japan - U.S. background,