Why Tokyo
Check the Latest Information
The Tokyo metropolitan area*, the world's largest population area with about 35 million people(as of January 1, 2022 ), is an ideal environment for business expansion.
* The Tokyo metropolitan area refers to Tokyo, Kanagawa, Chiba, Saitama, and Ibaraki prefectures within 50-70 km of central Tokyo.
GDP City (2016)
Chicago council on Global Affairs
Innovative City (2021)
Innovation Cities TM Index
Largest City by Population (2021)

Number of headquarters of Fortune Global 500 (2021)

R&D City (2021)
Global Power City Index 2022
Mori Memorial Foundation
Tokyo, a city that leads businesses to success
1. Massive market size and pursuit of higher quality
Market size: Did you know that Tokyo's (nominal) GDP is $1,064.4 billion (as of FY 2019), making it the largest's scale as a city in the world? Even with the COVID-19 disaster, the Tokyo market continues to progress and economic activity, including the quaternary industry and ESG Investment, continues. In particular, the medical market, which is the second largest in the world, the electronics and telecommunications equipment industry, one of Japan's leading industries, and the environmental market, which is expected to expand further in the future due to progress in environmental measures in response to global warming, are attracting high attention from overseas as attractive industrial sectors.
Quality requirement standard: Japanese consumers demand a high level of quality in products and services and have a high level of willingness to purchase. Products and services that are successful in Tokyo can expect to be well received in the global market.
Source: Chicago council on Global Affairs 2016

2. A treasure trove of business partners and high-level human resources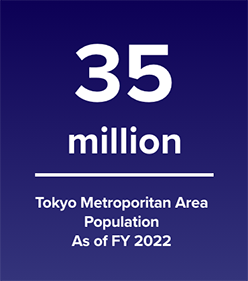 Did you know that Tokyo is one of the cities with the highest quality human resources and safest environment in Asia?
Quality of human resources: Japan ranks 4th in the world and 3rd in Asia in terms of its educational system, which supports STEAM education, following China and Singapore.
Safe environment: Japan tops the international ranking*2 in cyber security and hybrid security.
Concentration of business partners: Tokyo is home to a large number of companies, universities, and research institutes, making it a treasure trove of potential business partners and high-level human resources. There are also many small and medium-sized enterprises with world-class advanced technologies. Tokyo enables businesses to create innovations with business partners in Tokyo, and to expand their business to other parts of Asia and around the world.
Source: World Economic Forum's "The Future of Work" (2018), The Accenture Security Report (2017)
3. Comfortable Business Environment
Business customs: Japanese society values freedom and fairness. This provides an irreplaceable advantage for your continued business development.
Disaster preparedness: Tokyo is also home to many highly functional office buildings equipped with earthquake-resistant features, stand-alone power generation systems, and MICE facilities to ensure that even if disaster strikes, you can continue doing business 24 hours a day, 365 days a year in the global market.
Convenience: Japan's rail system boasts the world's highest level of accuracy. By locating your office in one of Tokyo's special zones, you can conduct business efficiently and without loss of time. Haneda Airport, with its more extensive international flights, is only about 30 minutes by train from central Tokyo, and Narita Airport is only about an hour by train from central Tokyo, making it convenient to travel to and from global headquarters.
Global City Index and Emerging Cities Outlook 2014 (A.T.Kerney)
Global Power City Index 2016(The Mori Memorial Foundation)
Global Cities of the Future 2014(Financial Times)
Tokyo, a city that is easy to live in
Cost of Living
Did you know that you can live more reasonably in Tokyo than in other Asian cities?
In the ranking of the world's cities with the highest cost of living, Singapore and Hong Kong (China) are ranked 2nd and 5th, respectively, among Asian cities, while Tokyo is ranked 13th, a relatively low level.
Source: Ranking of the world's cities with the highest cost of living (2021)
TripAdvisor World City Survey 2014