Programs for Attracting Foreign Companies
Click here if you require support
Programs for attracting foreign companies offer support services tailored to your specific needs to accelerate your decision to expand your business to Tokyo. There are some requirements to apply to this service, so please contact Access to Tokyo for further information.
Support cases
The Invest Tokyo Program has allowed us to have initial discussions with new Japanese clients. Specifically, it identified potential clients based on market research and suggested effective presentation methods to Japanese companies. As a result, we were able to collaborate with a large IT conglomerate in Japan. While this program helped us start establishing a presence in the Japanese market, we will be able to find further business opportunities.

Infuse Location
(Israel, entered the Japanese market in 2017)

The Invest office location and clarify an action plan toward establishing the Japanese entity. Not knowing the language and geography, navTokyo program allowed us to identify the strategic igating those processes was difficult. Above all else, the Tokyo Metropolitan Government's recognition helps us demonstrate the competitive advantage of our technology, and we are confident that we could further expand our business in Japan.

Dorabot
(China, entered the Japanese market in 2019)

While carrying out massive projects requires financial resources, the Invest Tokyo program's market research and growth formulation strategies showed the Japanese IoT market potential, contributing to successful fund raising for further business expansion. We are grateful that the program also helped us identify important partners and key sectors to focus on and introduced us to a new potential client.

UnaBiz
(Singapore, entered the Japanese market in 2020)
Service Details
Market Analysis
We provide market size estimates, comparative research, and survey results regarding the features of the Japanese market, based on the perspectives and opinions of experts and other professionals.
Entry Strategy Planning
With our industry expertise, we carry out competitive analysis and market needs assessments, to identify prospective markets, and propose effective strategies to enter the market.
Business Partner Identification
Provides support on identification of potential partners/customers as well as setting up meetings with potential partner companies
Cost Simulation
Conducts cost-benefit analysis on the investment to be made for entering or expanding business in Japan, and identifies suitable location for establishing an office.

Other supports such as office selection, employment and registration processes are also available
Support Process
Free consulting services are available to companies that intend to expand into Tokyo and have been approved by the Tokyo Metropolitan Government

General Requirements for Application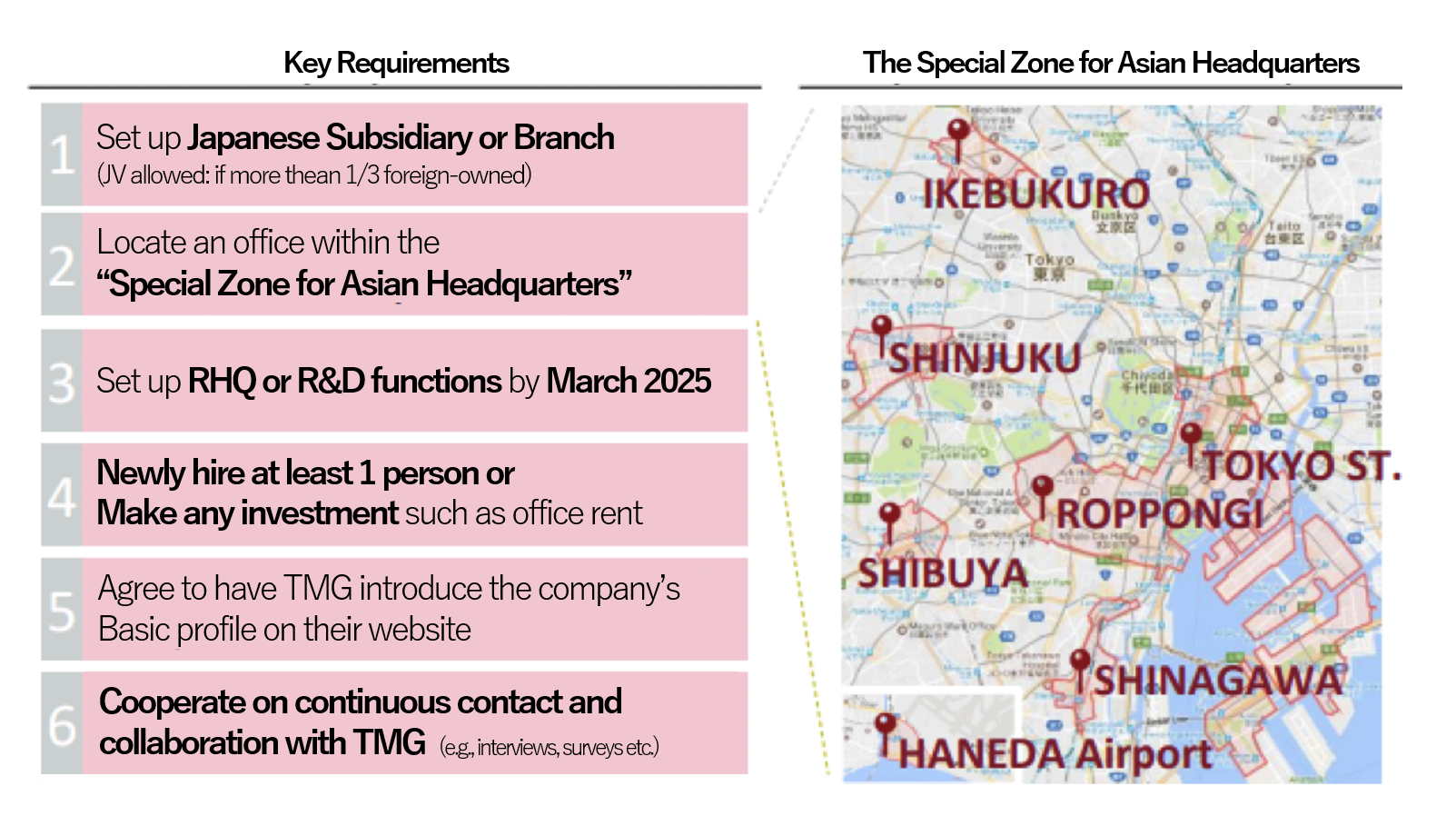 Subsidy for Establishing a Business Base for Foreign Companies
When foreign companies related to industry 4.0 (IoT, Big Data, AI, etc.) establish a base of operations in the Special Zone for Asian Headquarters, the Tokyo Metropolitan Government will subsidize a portion of the expenses required for the establishment of the base of operations, including recruitment expenses, starting in FY2023. The subsidy will be provided to foreign companies that have submitted an investment plan under the Tokyo Metropolitan Government's program for attracting foreign companies. For details, please refer to the following documents.
Forms for application