Central Tokyo / Waterfront Area
Marunouchi/Otemachi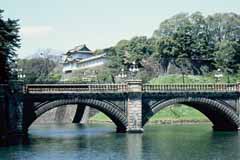 Marunouchi is located between the Imperial Palace and Tokyo Station, the gateway to the city. The name originates from its location within the outer moat of the Edo Castle in the Edo Period (1603-1868). Today, this area, including neighboring Otemachi, is Japan's financial and economic center that is home to the headquarters of banks, trading companies, mass media firms, and other corporations, as well as related business groups.
For over a decade, this area underwent redevelopment projects that led to the creation of many new commercial and cultural facilities, remaking these business-specific neighborhoods into more lively towns where people can enjoy plenty of shopping and dining options on the weekends.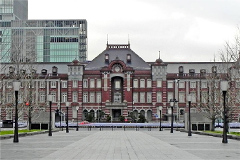 In this area, 2012 saw the completion of Otemachi Financial City, including the Finance, Innovation, Networking and Education of Tokyo (FINE Tokyo), a platform to foster international financial personnel, in the Otemachi district, as well as the JP Tower, including an international conference center and international business/tourism information center, in the Marunouchi district. Business Development Center Tokyo, a one-stop business consultation desk for businesses expanding into Tokyo, is located in the JP Tower as well. In 2015, a project to convert the Tekko Building created during the period of reconstruction after World War II into a modern office building with serviced apartments was completed. Additional large-scale urban development projects are scheduled.
Nihombashi/Kyobashi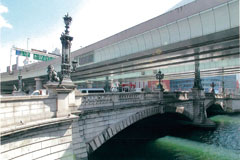 The finance and business district of Nihombashi has flourished as a commercial center since the Edo Period, and is an area where one can find traditional old shops in harmony with state-of-the-art buildings. Today, with Japan's central bank - the Bank of Japan - and the Tokyo Stock Exchange, headquartered here, Nihombashi serves as a global financial center on par with the City in London and Wall Street in New York and other global financial centers.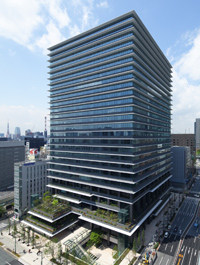 This district is also home to pharmaceutical companies, and initiatives are underway to create a center for drug development innovations.
Likewise, in the business neighborhood of Kyobashi, adjacent to Ginza, Tokyo Square Garden was completed in 2013. This complex has facilities such as a bilingual day care facility as well as a health care facility able to accept foreign patients.
Ginza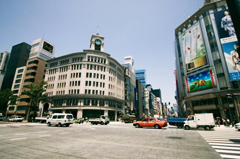 The name for Ginza originates from the fact that the agency in charge of minting silver coins was located here during the Edo Period. Featuring streets lined with department stores and high-end boutiques, Ginza is well known as one of the world's leading shopping districts, drawing tourists from all over the globe.
Shimbashi/Toranomon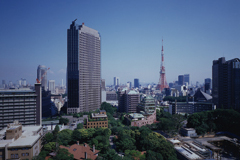 Shimbashi, the birthplace of Japan's railway system, is adjacent to Marunouchi and Ginza, and has developed as a center of commerce and business. This district, together with Toranomon - close to the Kasumigaseki district where the ministries and agencies of the national government are located - is one of Tokyo's leading office districts.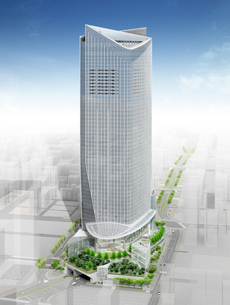 In the Toranomon district, following the mixed-use skyscraper project, which was implemented in conjunction with the construction of a section of the Ring Road No.2, a project to build an international business center in line with the construction of a new Hibiya Line subway station is underway. Developing spaces where homes are close to workplaces in order to attract international businesspeople is also planned.
Roppongi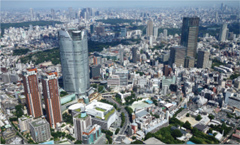 This is Tokyo's rapidly changing, trendsetting district. A highly cosmopolitan flavor is also present due to the numerous foreign embassies around the area. Roppongi is a popular shopping and art spot, which in recent years has seen the construction of megacomplexes like Roppongi Hills and Tokyo Midtown, complete with shopping centers, hotels, museums, and other facilities. In 2012, ARK Hills Sengokuyama Mori Tower was completed, a building that brings together residential, commerce, and business facilities.
Toyosu/Ariake/Odaiba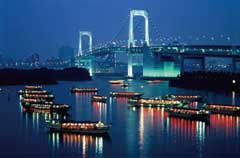 This area of modern office buildings, elaborately designed commercial facilities, high-rise residential spaces, and schools, is also referred to as the Waterfront area. Here, the elements of work, residence, study, and entertainment are brought together in one place.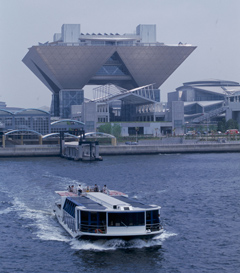 It is the location of Japan's largest international exhibition center, Tokyo Big Sight, and continues to be developed as a focal point for MICE*1 and international tourism. It is conveniently connected to the center of Tokyo by rail and arterial roads, and is also located near Haneda Airport (Tokyo International Airport), making it wonderfully positioned for air, sea, and land transport networks.
*1MICE: Meetings, Incentives, Conferences, and Exhibitions