To ALL visitors
Business Development Center TOKYO offers online consultation in addition to face-to-face consultation. All users who need to visit Business Development Center TOKYO are kindly requested to make a reservation in principal.
For online consultation and reservation, please feel free to contact us by telephone and e-mail as follows;
【Business Development Center TOKYO(Marunouchi)】
TEL: 81-(0)3-6269-9981  E-mail:financial-desk@bdc-tokyo.org (Financial One-Stop Support Service)
Thank you for your understanding and cooperation.
Financial One-Stop Support Service
Business Development Center Tokyo provides foreign financial companies* , etc. considering the establishment of business in Tokyo with free comprehensive consulting and support such as for completing administrative procedures in the joint consultation service with the Financial Services Agency.
The Financial Desk Consultant gives advice and /or introduces appropriate financial experts and other experts to the companies in need.
All consultations with the Financial Desk Consultant are free of charge.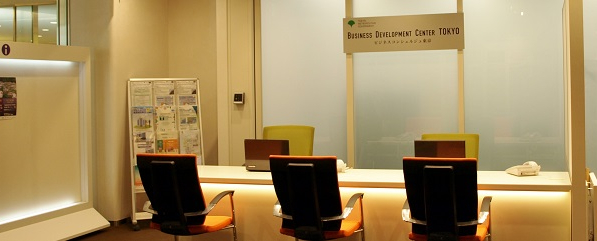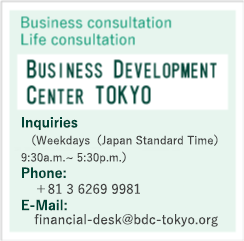 Business Development Center Tokyo
The Financial Desk Consultant
The Financial Desk Consultant who had been engaged in financial business both in and outside Japan for many years supports foreign financial companies in their establishment of business in Japan.
Services provided by the Desk
Provides information and gives advice on Japan's financial rules and regulations, and required procedure such as registration and acquisition of financial license.
Supports the establishment of business (e.g. provides information on the registration of the establishment of an incorporated company etc. ).
Introduces financial experts (such as lawyers, accountants and tax accountants, administrative scriveners, and judicial scriveners, etc.) and consultation desks, if it is needed.
Highly-skilled foreign professionals point special addition system
Supports business matchups.
Provides living information on hospitals and schools where foreign language is available, etc..
Supports other necessary procedure in establishment of the business in Tokyo.