CASE 25 Supporting the Japan Launch of a US IT company that developed a conferencing tool that can alter online customer service.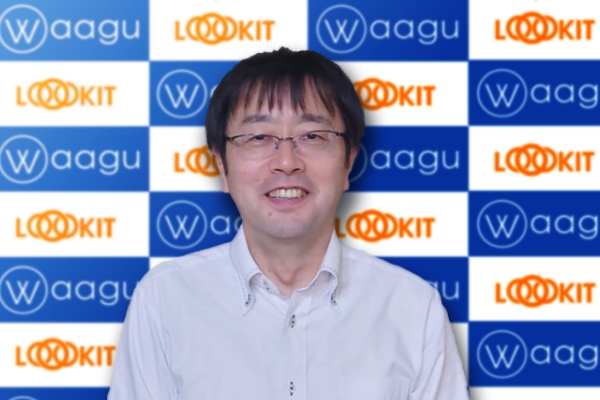 Waagu, Inc. is an IT company founded in the US in 2015 to provide multimedia messaging services.
They have developed LOOOKIT, a cloud-based communication tool that does not require the installation of any application. It has unique features not found in other services, such as a whiteboard for interactive entries or a map function to guide customers to the shop.
It is a new communication tool for the web-based customer service that is undergoing a transformation due to the COVID-19 crisis.
Support by Business Concierge Tokyo (BDCT)
Introducing cooperative companies
Participation in accelerator program.
Reasons for Choosing Tokyo
"LOOOKIT" is a multimedia messaging service that can be used only with a browser, without any applications. Like ZOOM, it is a conferencing tool for browser-based conversations, but with unusual and unique features that give it an advantage in customer service situations.
The parties involved in the meeting can write on whiteboard interactively or display a map and use GPS to guide the customer's way.
When you call customer service because your TV is broken, it's not easy to explain orally what's going on with the cables or the faulty part and make sure they understand. The customer service engineer on the other end of the phone can ask the customer to check and remotely take pictures of the broken part or the part that they want to check themselves, over a video call, using the camera on their mobile phone.
In order to provide these new types of web services, it is essential to work with companies in the telecommunications industry, as well as customer service companies and other IT companies. So, it was a natural progression to establish an office in Tokyo, the heart of the telecoms industry and home to a diverse range of companies.
Business Development Center Tokyo (BDCT) / Support by Tokyo Metropolitan Government
When we decided to expand our business in Japan, we thought it would be good to do so with the support of the Tokyo Metropolitan Government (TMG), where we were likely to be located, so we approached Business Development Center Tokyo (BDCT). As a provider of communication tools with a strong customer service focus, we needed to connect with industries such as financial companies and insurance companies, but there was an overwhelming lack of networking opportunities with these sectors.
As we were talking about those circumstances, the BDCT introduced us to an accelerator programme organised by the Tokyo Metropolitan Government (TMG) called "FinTech Business Camp Tokyo" as a networking opportunity. This program is geared towards facilitating the expansion of foreign companies into Tokyo, by providing mentoring from Japanese domestic companies in the financial sector and business matching with local companies.
TMG also provide us with ongoing support through their 'Partnership Support Program' to help us to find matches with companies. Although this is partly to help us develop our sales channels, it is only by talking directly to our clients that we are given the opportunity to find out how we can improve our services. Through these introductions and connections with a wide range of companies, we have been able to grow LOOOKIT's use as a tool and its value as a service.
Future Business Development
With the spread of COVID-19, we are seeing a rise in the number of web meetings, but we also hear a lot of requests from customers asking if we have a service like this because their existing service lacks the right features.
This is especially important with new communication tools that are constantly evolving.
For example, when providing customer service remotely, it may be easier to support a customer by assisting them to take a picture of a broken part of a machine using AI. It's not only important to improve the quality of the features we already offer, but we also need R&D to constantly gather feedback and create new technologies.
We hope to continue to create communication tools that will always surprise our customers without compromising on functionality.