CASE 26 Supporting Atlas Biomed, a UK Company That Provides Personalized Health Solutions Through Genetic and Gut Flora Testing, to Enter the Japanese Market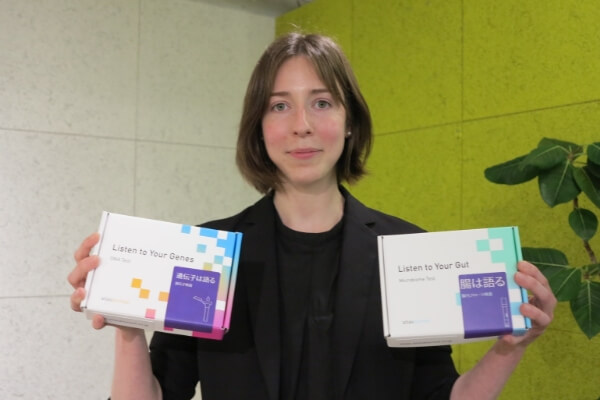 Atlas Biomed is a health tech startup company founded in the UK in 2016.
The company combines the analysis of saliva and stool samples collected using test kits with lifestyle data to understand the health status of users and provides personalized and actionable advice through its own health platform to help users manage their health.
This analytical method is unique in that it combines the user's genetic, gut flora and lifestyle data. The key feature is the generation of a multifaceted and detailed health profile including an assessment of the risk of developing diseases for each user based on data and evidence.
The company's test kits are already available in 13 countries including the UK, as well as Turkey, Russia, and Canada, and have achieved results in visualizing the risk of developing diseases, promoting health, and preventing lifestyle-related diseases.
The company's strength lies in its cutting-edge research and extensive knowledge in the fields of genetic analysis and gut flora analysis.
Making use of them, the company has steadily grown into a health tech startup company by conducting over 100 R&D projects with major beverage, yogurt producers, and pharmaceutical companies.
In January 2020, Atlas Japan G.K. was established in Tokyo with the aim of expanding its services in Japan and has made inroads into the Japanese market.
Support by Business Concierge Tokyo (BDCT) and Partnership Support Program
Provision of information and advice for business development in Japan
Introducing cooperative companies
Participation in online industrial exchange exhibitions
Participation in the business matching program of Bureau of Industrial and Labor Affairs by the Tokyo Metropolitan Government
Reasons for choosing Tokyo as a new market hub
Japan is one of the world's super-aging societies, and people are highly interested in health and longevity. They are particularly concerned about various diseases, including lifestyle-related diseases that increase in risk with age and their prevention. More and more people are seriously thinking about making their lifestyle better, maintaining and improving their health, and living every day with a healthy body and mind as long as they can.
In recent years, there has also been a growing interest in "cho-katsu" (meaning all activity focused on improvement of gut flora situation). There is no day when we do not see any articles or advertisements related to "cho-katsu" on TV, newspapers, magazines, websites, etc. I think this is because people are becoming more and more aware of the importance of their own health in their daily lives and experiences.
In addition, now that we are experiencing COVID-19 pandemic, we are paying more attention to our own immunity and health conditions than before, and are caring about health management.
Japanese people have a high level of health consciousness, and for this reason, there are many companies that possess advanced technologies in the medical and food fields, as well as know-how in providing various services. In other words, there are many companies in Japan that we can expect to collaborate with. For us, Japan is a market with great growth potential.
Business Development Center Tokyo (BDCT) / Support by the Tokyo Metropolitan Government(TMG)
As a start-up company that had developed its business mainly in Europe, we were wondering how to approach Japanese companies with which we could collaborate more effectively. The COVID-19 situation was also a major factor that slowed down our expansion in Japan.
However, from April 2020, we began to receive support from BDCT and the Partnership Support Project (a project of the TMG), and gradually began to see a way to develop our business in the Japanese market.
First of all, in order to prepare an appeal sheet for approaching Japanese companies, we received advice from the TMG on clarifying our target industries, and also on highlighting the strengths of our company and products.
In fact, through our participation in the TMG's Accelerator Program, we were able to conclude business negotiations with major companies and take an approach that we could not have taken on our own.
After that, in response to our requests for business matching with functional food and beverage manufacturers, insurance companies, and pharmaceutical companies, the TMG has introduced several companies and given precise support to us.
As a company that has just entered the Japanese market, we are deeply grateful for the support from the TMG, which is well versed in the Japanese business situation.
Future Business Development
One of the first common challenges for startups entering the Japanese market is how to raise awareness of the services they offer. For this purpose, partnering with a major Japanese company can have a big impact and be effective.
Therefore, with advice and support from the TMG, we are actively participating in tech-related seminars and various events held by the TMG to promote our PR activities.
By the end of 2021, we plan to launch a smartphone-linked application that will provide advice on how to improve diet based on the test results, which we hope will raise awareness of our services.
In addition to expanding the sales channels for our test kits, we would like to utilize our strengths in both genetic analysis and intestinal flora analysis to eventually promote R&D projects such as product development with collaborating companies, as we have done in Europe. Our challenge has just begun.