CASE 31 Supporting Columbia Threadneedle Investments, a world-leading asset management firm with a more than 125-year history, with opening a bank account and applying for subsidies when it launched its Japanese arm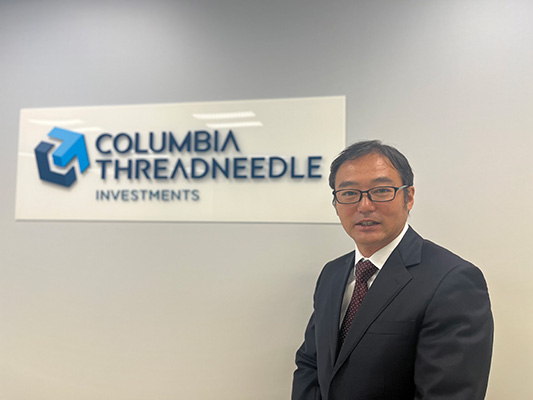 Columbia Threadneedle Investments is the global asset management group of Ameriprise Financial, Inc., a leading US-based financial services company founded in 1894. Columbia Threadneedle Investments is a well-established asset manager, managing 547.6 billion dollars (79 trillion yen*) in wide range of strategies across developed and emerging equity market equities, fixed income, and alternatives. It has expanded its corporate scale through a number of mergers and acquisitions.
The parent company based in the US is the country's one of the largest financial planning services provider, enjoying a high reputation and strong branding. The firm operates three main businesses: asset management, advice &wealth management, and insurance & annuities. Columbia Threadneedle Investments undertakes the core function of the asset management segment.
Columbia Threadneedle Investments has offices across the globe. In Asia, the company locates its regional headquarters in Singapore, and has branches in Hong Kong, South Korea, and Australia. Setting the next target as Japan, we made painstaking preparations to advance into the market in earnest and incorporated the Japanese office in February 2021.
* Based on the USD/JPY rate of 144.74 as of September 30, 2022
Support by Business Development Center TOKYO (BDCT)
Advice and support on opening of a bank account for a Japanese office of a foreign company
Support Application for subsidies
Reason for choosing to establish an office in Tokyo
I joined Columbia Threadneedle Investments Singapore entity in 2011 and have since been engaged in the Japan business. While the asset management market in Japan was particularly large, the company had no office and license. Therefore, my mission was to build a business foundation and open an office in Japan to better serve the Japanese market. To fulfill my mission, I have dedicated substantial time and effort to build a solid foundation that will ensure long-term success.
Columbia Threadneedle Investments manages a wide range of asset classes including equities, bonds, and alternatives. We will utilize these resources to create effective product strategies, aiming to win a place in Japan's asset management market.
Previously in Japan, we have seen market trends favoring short-term investments. Recently, however, the market has begun to shift its focus from theme-based or high-dividend products to longer-term investments based on longer-term perspectives.
With the shift to longer-term investments and our proven investment track record, we thought are in a good position to offer strong products that would appeal to the Japanese market. We thus decided to set up the office in Japan.
Around that time, I learned that there are programs run by public institutions, such as the Tokyo Metropolitan Government (TMG) and the Financial Services Agency, that support foreign enterprises in establishing a Japanese office and in obtaining related licenses. This finding helped us pull the trigger on our decision.
User feedback on BDCT services
We had many preparations for launching a new office to obtaining licenses. Among others, one major challenge we faced was difficulty in opening a bank account. I consulted the BDCT office on how we should proceed, and they referred us to a number of banks and provided useful information.
We started talking with one of the banks to begin the necessary process, but eventually withdrew, partially because there were too many formalities to complete before entering into specific negotiations, and we instead started new discussions with the other bank we had contacted separately for the same purpose. The BDCT gave us precise advice about each need related to the overall process including the above-described change in the bank we wanted to partner with.
They gave appropriate explanations on various specific issues, including the suggestion that we confirm that the existing account was qualified to perform procedures that were essential to incorporating the planned company, such as BOJ check drawing, expense payments, and cash remittance.
Thanks to the kind and valuable support of the BDCT, we finally managed to open a bank account, which had turned out to be a much harder challenge that I had thought.
The BDCT also gave us detailed explanations on subsidy programs available to foreign enterprises for establishing a Japanese subsidiary. They described relevant programs clearly, helping us improve our otherwise inadequate understanding of them. Owing to their accurate information on application procedures and eligibility requirements and appropriate advice for preparation, our application for the TMG's programs was accepted.
We are also planning to apply for subsidy programs designed to support post-launch operations of Japanese subsidiaries of foreign companies. We will use their services when we need to.
As described above, the BDCT provides advice and support to foreign enterprises planning to develop business in Japan, helping them address various issues related to start-up and post-launch operations, as necessary, which is very heartening.
Outlook for future business development
At present, Japan's retail investment market is small relative to the overall market size. However, we recognize the market is shifting toward longer-term investments, and in response to this trend, drawing on our strengths built up through operating in Europe and the US as a global asset manager, we will offer a steady stream of products with high credibility to Japanese customers. Columbia Threadneedle Investments commits to this mission, and fulfilling this commitment is our purpose.