CASE 32 Supporting Godo Kaisha Hi-EndJ.-Ost with opening a bank account when it was launched as the Japanese arm of Hi-End Japan GmbH, a Germany-based company that imports vintage Japanese-made audio equipment, which is enjoying a quiet boom in the digital era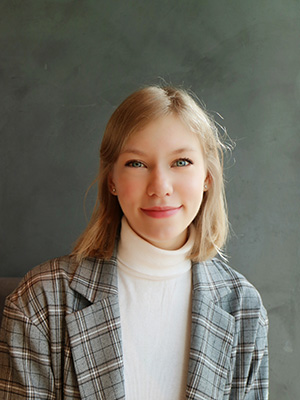 Born in Ukraine, Vasko Ganna is an entrepreneur living in Japan.
She is also a fan of Japanese anime, a major source of her keen interest in Japanese culture. She made her first visit to Japan as a second-year high school student, using a two-week tourist ticket bought by her parents. When she arrived, she knew very little about the country beyond her love of anime. As she traveled around, however, she was struck by the characteristic politeness and kindness of the Japanese people and learned more about the local culture and its special mix of tradition and innovation. By the time she went home, she was a confirmed fan of Japan, which held a unique appeal compared to the European countries she had been to. She visited Japan again upon graduating from high school.
Ms. Ganna's father was a founding member of Hi-End Japan GmbH, a Munich-based company that imports 1980s-era vintage audio equipment made in Japan. The business has grown over the past 20 years to cater to audiophiles around the world.
The company had been using local agencies to source products for years when it decided to establish a Japanese subsidiary to increase its procurement capabilities. Ms. Ganna's father asked for her help in carrying out the plan, to which she immediately agreed. This marked the beginning of her journey to establish a company in Japan.
Support by Business Development Center TOKYO (BDCT)
Support with opening a bank account for a Japanese subsidiary of a foreign company
Reason for choosing to establish the company in Tokyo
I was brought up in Hungary. At home, I was surrounded by roomfuls of choice vintage audio equipment collected by my father and I immersed myself in the warmth, richness and depth of the analog sounds it produced. From childhood I was thus enchanted by--and appreciated the value of--the unique sound quality produced by old audio equipment, which you cannot get from today's digital systems.
I had no hesitation in agreeing to my father's request to help establish a company in Japan. To the contrary, I was delighted to have an opportunity to work in my favorite country.
That said, having no business knowledge or experience, I was at a loss as to what to do to launch a company in a foreign country.
I conducted a web search using keywords such as "establish a Japanese company" and "start-up support for foreigners," and found information about the Tokyo One-Stop Business Establishment Center (TOSBEC), which provides support to foreign entrepreneurs. What particularly got my attention was, as suggested by the name, the convenience of being able to perform a whole range of necessary procedures from a single desk at the office. Also, it was reassuring to know that the center was operated by the Tokyo Metropolitan Government (TMG).
I promptly visited the TOSBEC office to use their services. The center helped me with completing the entire process of incorporation from scratch, and I was able to register the establishment of Godo Kaisha Hi-EndJ.-Ost in March 2021, with much less difficulty than I had expected, despite my lack of knowledge.
At present, the office is located in Tokyo's Akihabara district, which is important when considering needs for procuring products from other regions across Japan. Akihabara has advantages in terms of collecting information and accessing public transportation. And I also found a warehousing service suitable for our business in Ota-ku.
User feedback on BDCT services
The next challenge to overcome was to open a corporate bank account. I thought it would be as easy as the previous task, but I couldn't have been more wrong. I tried to open an account at four or five banks but was rejected by all. Being a foreign visitor in my 20s with not the least bit of business experience and no local acquaintances, I did not qualify for corporate services offered by the banks.
But I needed to open a corporate account in order to start the business. I then learned about the BDCT, a government service providing comprehensive support to foreign companies in developing their business in Tokyo, including for business and non-business purposes. In May 2021, I contacted the office to ask for help. The BDCT is also a TMG agency, which was reassuring.
I was immediately referred to a number of city banks and online banks. While engaging in the related negotiations, I was notified by the BDCT about a bank that was considering my request and had asked to interview me. At the meeting held on June 10, I successfully presented my business plans and other details, and was able to open an account after undergoing the necessary on-site inspections.
I am truly thankful to the BDCT for providing me with appropriate advice and support. Based on my experience, I recommend it to my non-Japanese friends who are planning to start a business in Japan and also post about how useful it is on social media.
Outlook for future business development
Digital audio equipment has made it very convenient to listen to music, specifically with respect to enjoying high-quality sounds at any time and any place, and has thus become the industry-standard technology, leaving less convenient analog audio systems to become outdated.
Recently, however, older sound media have begun to stage a quiet comeback, proving especially popular among the digital-native young generation. Many young people are becoming interested in vinyl records and cassette tapes, which has led to a recent boom in the analog audio market.
A small but solid market in vintage audio equipment has already been established to accommodate long-time devout music lovers around the world. Within this market, high-quality and value-for-money Japanese-made products are highly sought after. I hope that the recent boom will produce new vintage audio fans and thereby expand our future customer base.
While I am currently the only employee of the company, I am working to steadily grow the business, with a view to hiring staff and developing new business. This may require administrative formalities for obtaining approvals and licenses, so it is heartening to know that the BDCT can address such needs. I will keep in touch with the office and use their services when I need to.