To ALL visitors
Business Development Center TOKYO offers online consultation in addition to face-to-face consultation. All users who need to visit Business Development Center TOKYO are kindly requested to make a reservation in principal.
For online consultation and reservation, please feel free to contact us by telephone and e-mail as follows;
【Business Development Center TOKYO(Akasaka)】
TEL: 81-(0)3-3582-8353  E-mail: support2@bdc-tokyo.org
【Business Development Center TOKYO(Marunouchi)】
TEL: 81-(0)3-6269-9981  E-mail: contactus@bdc-tokyo.org
E-mail:financial-desk@bdc-tokyo.org(Financial One-Stop Support Service)
Thank you for your understanding and cooperation.
Business Development Center TOKYO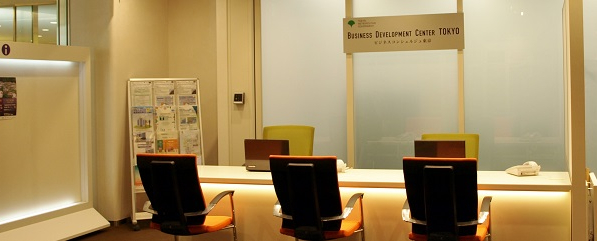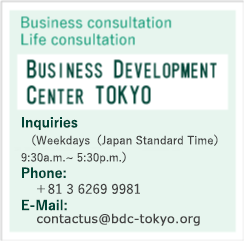 Business Concierge Services
The Business Development Center TOKYO is the Tokyo Metropolitan Government's comprehensive service for foreign companies who are considering establishing in or expanding to Tokyo. We offer a total support package that covers all aspects from business through to lifestyle issues. For foreign companies that plan an expansion into the Special Zone for Asian Headquarters in particular, we provide both business exchange support and specialized consulting services. Through such activities, we strongly back the development of business in Japan's capital city.
Consultation Flowchart
At the Business Development Center TOKYO's offices, our bilingual consultants who possess a wealth of international experience are on hand to offer face-to-face consultations. Responses to inquiries received via telephone, email and facsimile are also possible. We offer speedy, one-stop support services that are tailored to meet the desired development paths of business.
Fundraising Support for Foreign Entrepreneurs
We will be providing a one-stop service for foreigners who are considering starting up businesses in Tokyo. Staff members proficient in English support various inquiries on the fundraising that are available during the start-up phase. The support for completing the necessary procedures for the fundraising is also available.
Fundraising Support for Foreign Entrepreneurs
CASE STUDIES
Below are some actual examples of the support offered by the Business Development Center TOKYO
Supporting the Business Matching of a German Company Offering Cleaning Systems Technology
Overall business support in market development for Czech beer in the Japanese market
Sales channels and sales expansion, introduction of properties
Business and Lifestyle Information
The Business Development Center TOKYO provides convenient and valuable information for both establishing business in Tokyo and expanding to the city. We also provide lifestyle information. Topics about which we can provide information include how to search for specialists and business partners, the tax incentives and subsidy programs offered, the scope of corporate taxation, the types of tax paid when living in Japan, the city's Internet environment and Tokyo's climate, etc.