CASE 21 "Sparkup" reforms meetings with two-way communication.
Supporting acquiring new clients in Japan through business matching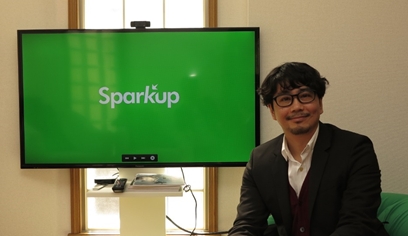 "Sparkup" is a software that provides a platform that allows both the speaker and the participants to communicate, realizing two-way communication on occasions, such as different business events held by companies and organizations (meetings, seminars, training).
It is quite common to see the speaker talking one-sidedly and the participants sitting down quietly. This is especially true at business events. "Sparkup" creates an environment that realizes two-way communication at business events by using devices the participants have, including laptops, smartphones, and tablets. The characteristic of "Sparkup" is its ability to make the event fruitful by drawing the participants' interests by the interactivity it creates, motivating them to participate.
The software was developed by Magency, a French startup founded in 2011. It founded a Japanese subsidiary in 2016 and has been developing demand for Sparkup in Japan. "Sparkup" has been used by many leading companies. Magency is motivated to acquire even more clients after being highly received for the software's ability to improve people's motivation to participate, learning effect, and how it has realized the digitization of the participation results.
Support by Business Concierge Tokyo (BDCT)
Introducing cooperative companies
Exhibiting at exhibitions
Participating in various events
Reasons for Choosing Tokyo
When our CEO went to the United States to give a speech in 2015, he had the opportunity to talk with a person from a Japanese think tank. He was interested in "Sparkup" and advised that Japan would surely have a large market for the software.
It is true that many business events are held regularly in Japan, such as company meetings. This means that there are many opportunities "Sparkup" could be useful. There are no problems in the environment to use the software, as communication using digital devices, such as social media, has become common. There are also no competitors.
I immediately started to research about the market in Japan. As I happened to be Japanese, I was assigned the job and moved to Japan as an employee assigned in Japan sent from the French headquarters. I chose Tokyo as our base, as our main targets were major companies, and the headquarters were concentrated in Tokyo.
I took about a year to research about the market. Seeing that there were enough demands, I set up the Japan branch in 2016, receiving the support of the Tokyo Metropolitan Government.
Review of Using Business Concierge Tokyo
When we first expanded our business to Japan, we could gradually acquire new clients by doing sales on our own, conducting web marketing, and exhibiting in exhibitions receiving the support of the Tokyo Metropolitan Government.
However, we were also struggling with the unique ways of doing business in Japan. The period for companies to decide whether they would use "Sparkup" was significantly longer than western companies. It was also difficult to figure out who had the power to make a decision, even though many people would attend appointments or meetings. Our next challenge was to shorten this sales cycle, increase the opportunities to approach more clients, and acquire new clients we have not met yet. BDCT was the key player that solved this problem.
BDCT has been mainly offering support in the area of business matching. We are helped significantly by them as they understand our situation so well. They create an environment that allows us to give presentations to places that are truly needed so we can talk about how "Sparkup" could be useful to what kind of companies and occasions.
They also can skillfully meet our request for meeting certain clients from certain industries. They provide places for business matching, such as recommending us to join programs or events that match our needs.
They also provide support for how to give a presentation about "Sparkup." As "Sparkup" is a software, the features may be hard to explain. The most effective way to give a presentation is to give a demonstration in front of a customer. BDCT has also helped to increase the software's recognition, such as creating opportunities for us to give presentations at events and giving demonstrations at our customers' meetings.
The greatest challenge, regardless of any industry for foreign companies, is facing the question of how to conduct sales to develop a new market in Japan that has a unique way of doing business. In that sense, we could acquire the best practices for doing business in Japan through the support of BDCT.
Future Business Development
While the main industries of the clients we have acquired in Japan are financial, pharmaceutical, automobile, and IT, we plan to also focus on approaching companies in other industries.
Thanks to BDCT, we are now able to approach companies and conduct sales that were not possible before. We would also be needing to hire people as the business at the Japan branch expands. We have high expectations for BDCT to also help us in this regard.
In any case, we believe BDCT is an indispensable partner for us to acquire more clients in Japan.