CASE 22 The company will grow in Japan and expand to the world.
Business matching support for the company from Taiwan to explore open innovations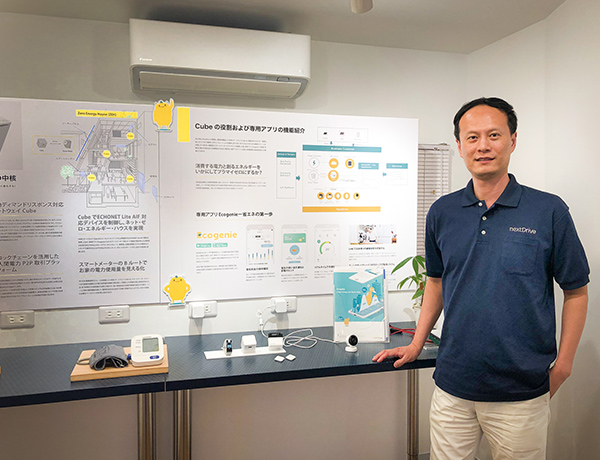 Next Drive K.K is a company using IoT technology to provide energy management solutions.
Next Drive made a platform where it can share data of energy usage as electricity or gas with users. They are also considering to add data of water usage to their platform. The hardware called CUBE is the core of the platform to share information collected from smart meters and sensors. It is their strength to be able to provide total solutions through the platform and by cooperating with partner companies collecting various data.
It used to be common for users to know the usage of energy through statements sent from energy companies. Next Drive made it possible for their users to check energy usage any time though their platform. They provide services to share useful information with users, and the services are importantly supported by partner companies collecting data.
Support by Business Concierge Tokyo (BDCT)
Providing information related to local market
Introducing cooperative companies
Participation of various events
Reasons for Choosing Tokyo
We handle information related to energy as electricity or gas. But there is much more information which could be helpful for our life if it is managed correctly. For example, blood pressure could be very informative to manage our health conditions. However, it is impossible to collect various information related life and provide solutions solely by our company.
If you want to create platform to manage various data, it will be necessary to build connection and cooperate with partner companies collecting the data. That is when open innovation plays an important role.
We picked Tokyo, the largest city in japan, to find and cooperate with companies with different types of technologies. Tokyo is also the city where I spent good time as a student, and I was comfortable to choose this place for our business.
Business Development Center Tokyo (BDCT) / Support by Tokyo Metropolitan Government
We received continuous business supports and help through incubation programs of Tokyo Metropolitan Government (TMG) ,which includes supports from Business Development Center Tokyo (BDCT).
It is difficult for international companies to do research of local market in japan before setting up their locations because the connection to acquire such information is limited. It helped us to get closer to Japan by learning about local market with the support from Tokyo.
Even three years after we set up a business in Japan, the support still goes on. We are currently receiving TMG's matching support with Japanese companies through Partnership Support Program. Even under the situation of COVID-19, we are currently talking with some companies matched through the program.
Future Business Development
I remember there was only me in the Japanese branch when we established Next Drive K.K. on 2017. Now we are the team of 20 members.
It often takes time for international business to build connection with Japanese companies. However, it is also true that Japanese companies take good care of the relationship once it's made.
We are working with one of Japanese house makers to expand business in Australia by coworking on project related to smart house solutions.
The coworking relationship with Japanese companies is not only important in Japan, but also it helps to expand our business overseas together. It is our goal to keep expanding our business, and the key is in respecting good relationships with such partner companies in Japan.