CASE 33 A great amount of support for business start-up is given to an entrepreneur and his father.
A son's company, "Tokyo Crew," provides recording and equipment rental services targeting overseas film crew.
Furthermore, his father started a remote streaming company named as "Tokyo PUNTO"in Japan, too. Pay attention to start-up support for two generations!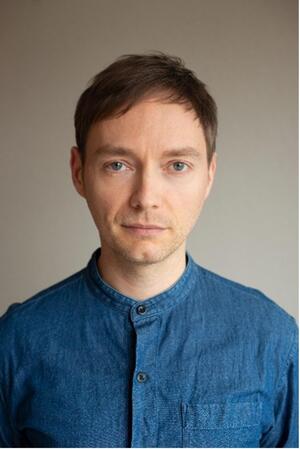 Mr. Mariel Lohninger, who is from Austria, established a company called "Tokyo Crew" in Tokyo in 2016, to provide location audio services, on-set production sound mixing, and sound equipment rental company for film, commercial, documentary, and television productions.
He had been working in Los Angeles, as audio engineer (sound mixer), for around 15 years, and had been engaged in film, TV dramas, commercials and documentary productions. During this period, he accumulated rare and valuable skills and experiences. It motivated him to start his own business. His main target is overseas film crew who come to Japan to shoot films or videos for TV, commercials, films, company profile productions.
"Tokyo Crew" is the first start-up company, supported by the BDCT and approved by the Program to Increase Foreign Entrepreneurs" which is sponsored by the Tokyo Metropolitan Government
This is the 7th year since his company started. It had a good start and continued to do well by increasing the number of customers and clients. But the Coved-19 coronavirus pandemic happened and his business was forced to face tough and challenging times. He was disappointed that overseas film crew were not able to come to Japan for the subsequent couple of years. His business, however, got back on a recovery track in the latter half of 2022 and is now getting very busy as before coronavirus pandemic.
Furthermore, even under pandemic conditions, Mariel-san started to give support to Mr. Karl Lohninger, his father, who wanted to set up a company in Japan, too. Karl-san had his own business idea, which was long in planning.
Remote streaming is a technology that enables everyone in different locations all over the world to see live video captured by multiple cameras in remote locations such as studios or film location places, as long as there is a mobile cellular network (4G, 5G, etc.) environment.
In addition, this is a service that allows someone in remote locations to send back his or her own
images and communicate directly with interviewee or crew members.
If this service is used, for example, a film director overseas can make smooth conversations with a reporter in Japan, while both watching live video stream simultaneously.
He thought that he would bring this technology into business and establish a company in Tokyo, which can provide remote streaming services. These services are quite instrumental in shooting /producing, documentary, company promotion videos or interviews in the news, etc.
Support by Business Development Center TOKYO (BDCT)
Share information and advice on the way to set up a business in Japan
Support on opening a corporate bank account
Support on searching for office space
Reason for choosing to establish the company in Tokyo
These days, an increasing number of foreign people are attracted to Japanese culture, behaviors and manners or life style, which are represented by a word of "OMOTENASHI."
In order to explore such charms of Japan, many overseas media and film production companies want to actually interview and shoot in Japan. Japan is a very popular filming location for them.
But, comparing Japan with the US, Japan does not have a good environment where support services for overseas crew are fully available and procurement of recording or video equipment is smoothly carried out. There is a case that the crew members very often suffer from bad sound recording, particularly when shooting in outdoor locations. In this circumstance, "Tokyo Crew" was founded on the purpose to provide location audio services, on-set production sound mixing, and sound equipment rental services for film, commercial, documentary, and television productions overseas
As expected, just after 2016, our company had received many customer inquiries for our service. As the company grew, the number of overseas customers steadily increased. But, coronavirus pandemic happened. We experienced a very tough time,but we are now lucky to see our business recovering well.
The next challenge we faced was for my father to set up a remote streaming service company in Tokyo. Since the coronavirus pandemic stopped him from coming to Japan, I spent time helping to prepare for start-up, enjoying the support from BDCT. In the end, my father did establish a company in June, 2022. The company name is "GK TOKYO PUNTO."
Tokyo is the center of the media/film industries. Most of our prospective and potential customers of "TOKYO PUNTO" reside in Tokyo, and I believe that we can gain more business opportunities in this city.
User feedback on BDCT services
In the initial stage of start-up, I researched about how to set up a company in Japan by browsing many websites, and finally reached BDCT where a variety of start-up services are provided.
In order to start a business in Japan, the first thing you have to do is to obtain status of residence or business management visa. In the first place I was quite perplexed at how many documents were required, such as submission of various types of documents or signing of an office rental contract, approval of status of residence. Also, I was also confused to see how difficult and complicated was to create and prepare the appropriate documents.
When I decided to establish a company, I was very nervous and had anxiety about the future.
But, after I visited BDCT for start-up consultation, I was surprised at how smoothly I went through various start-up procedures, as well as application procedures for the "Program to Increase Foreign Entrepreneurs" sponsored by the Tokyo Metropolitan Government.
I also received good advice and recommendations from TOSBEC.
When there were any deficiencies in the documents for submission, English-speaking business consultants were so kind to give advice and corrections. It was very helpful.
When I tried to open a corporate bank account, it gave me a headache. I was not able to obtain an approval so quickly. With the advice and support from BDCT, I ended up with opening a corporate bank account.
BDCT helped my father a lot to start a business. Due to coronavirus pandemic, he was not able to come to Japan. So, on his behalf, I proceeded the procedure of applying for the Program to Increase Foreign Entrepreneurs" run by the Tokyo Metropolitan Government, and of setting up a company as well. Thanks to great support from BDCT, we were able to use the Program, and establish a company in Japan. He is very grateful to BDCT.
Outlook for future business development
The coronavirus situation is getting better. In recent months, more and more foreign tourists or business people are coming to Japan. As to foreign media and film crew, their visits are increasing as before.
Now, I have a feeling I start over again. Ascertaining what overseas crew want and need, I would like to provide more appropriate services to them.
My father's company, "TOKYO PUNTO," is also attracting more attention from the media & film industries. Remote streaming service is highly-demanded, either during or after coronavirus outbreak. Providers of this service, however, are in great short. My father is now highly motivated, saying that our business opportunities are enormous in Tokyo.
Furthermore, I would like to add that there is a good synergy between my company and my father's company. We introduce our customers and clients to each other.